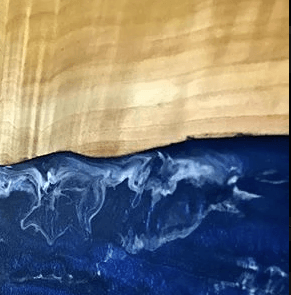 The following project and pictures were shared from David at Grey Woodworks.
Our shop is in Fort McMurray, so it's always a challenge to shop for large, live edge slabs. The city of Fort McMurray, is located in the northern part of Alberta and is about 450 km (279 miles) from the nearest Windsor Plywood.
We have developed good relationships with a few of the Windsor Plywood locations in the Edmonton area. These skills enable us to deliver a more suitable piece of wood for the project. The stores were more than willing to help us out, as they going to the showroom, pulling out slabs and email/text photos of available options. This particular slab was sold to us by Jason @ Windsor Plywood Leduc.
We bought these book matched Mappa Burl slabs with the intent of getting a few river pieces out of them they started at 11' long and 34"is extensive. Proceeded to see Colin at Windsor Plywood Sherwood Park for our EcoPoxy and our pigments to complete this project.
After travelling to Edmonton to pick up the slabs, we returned home to access what we had and to try to lay out the potential river pieces.  These pieces were in relatively rough shape as they were bowed cupped and twisted, but we only needed sections from these slabs, which allowed us to remove a lot of the obstacles presented by ripping the slab into smaller pieces.
The first step of the project has flattened the surface of the slab with sanding. Then we had to fit the live edges together to create the best flow of the river. A rough sketch was created to determine how the epoxy glass would look like on the slab. We use tracing paper to copy the shape of the river then transfer paper to produce a template for the pouring form. The river is then poured a solid colour blue, as this used as the base. Once the pigment detail on the top of the resin hardens, we pop the resin glass out and it has to be sanded flat. Next, a router would be run around the edges to smooth out the rough edge. Then with aid of a flush trim bit, a channel has to be into the slab. The channel is roughly a 1/4″ in depth. The pigment is then added to help with the colour highlights. After that, we sand it flat (if needed), and spray a protective finish on the project.
Completed Size:
This piece was 50″ x 38″ x 2.5″
Materials:
– Mappa Burl Slab
– Ecopoxy and metallic pigments
Duration of Project:
With slab flattening included, hours in the shop would be around 18.
Be sure to check out more fine woodworking at the Grey Woodworks website and Instagram
https://www.greywoodworks.com/
Instagram https://www.instagram.com/greywoodworks/
#greywoodworks